Our Garden
Our plants are grown using all natural practices without the use of pesticides, herbicides and by choosing non gmo and organic seeds and plants. Our herb garden is the focus and inspiration for providing handcrafted natural soaps, hydrosols, skincare products and teas.
Making handcrafted skincare products for over 15 years, we seek to create nourishing blends using a variety of plants which are processed as dried herbs, infusions, hydrosols and herb infused oils to be used as ingredients along with organic, food grade, plant sourced and local additions wherever possible, made in small batches to ensure quality and freshness.
What People Are Saying...
After trying the organic industry products available...I discovered Farmington Herbals in 2012 and have experienced delightful results ever since! These products are impeccably pure and consistent formulas that last for months and years! Living with auto immune disease, other products resulted in allergic reactions and great expense. I use Farmington Herbals soaps, lotions, lip balms and face creams daily. They provide an aromatherapy aspect while simultaneously keeping my skin clean, healthy and moisturized. Reasonably priced and quickly delivered, these products are a staple of my self care. I enthusiastically recommend Farmington Herbals to everyone! I look forward to the expanding line of products and feel an empowerment regarding my support of this family business instead of the corporate beauty industry. It's a "win-win" situation all the way around for my physical, mental , emotional and financial health!

Jayna Woodstock, NY
I Love their products!
Farmington Herbals is hands down one of the best herbal companies out there! I have been using their soaps, lotions, bath products and lip balms for the past 15 years! All of their products are beautifully handcrafted and artfuly blended! I have given many of their products away as gifts and everyone raves about them! I highly recommend!

Amy Petaluma, CA
I have been using Farmington Herbals soap for many years and love the natural ingredients and especially the variety of fragrances. Right now my favorite is Hawaiian Dreams.

Nina Madison, GA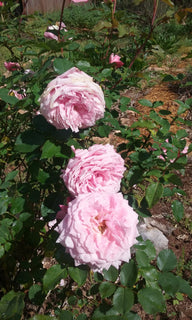 Disclaimer - These statements have not been evaluated by the Food and Drug Administration. This product is not intended to diagnose, treat, cure or prevent any disease.